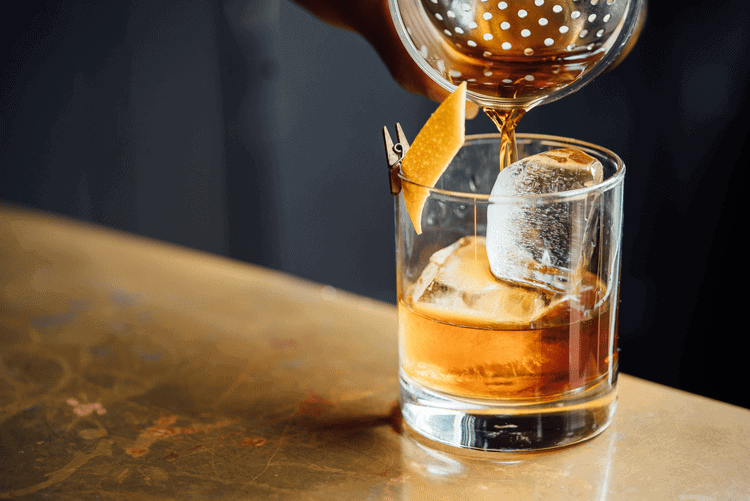 Knowing what you like and exploring interesting new drinks are part of the fun of visiting a bar. Plus, when it is time to order, you will appear knowledgeable about the variety of options.
As one of the best cocktail bars in NYC, Arthur's Tavern offers a wide array of speciality and classic cocktails.
Classic Cocktails
Classic cocktails are considered classics because they have been around for a long time. Here are some of the greatest cocktails to order at a bar:
Rum and Coke
Scotch and soda
Screwdriver: vodka and orange juice
Cosmopolitan: vodka, lime & cranberry juices and triple sec
Old Fashioned: bourbon, orange peel or twist, bitters and sugar
Mojito: white rum, club soda, mint leaves, lime and sugar
Martini: gin, dry vermouth, bitters and an olive or lemon twist
Bloody Mary: vodka, tomato juice, lemon juice and a celery stalk Tom Collins: gin, lemon juice, sugar and sparkling water
Manhattan: whiskey, vermouth, bitters and a maraschino cherry
Mai Tai: white & dark rums, orange curacao, syrup and lime juice
Long Island Iced Tea: vodka, tequila, light rum, triple sec, gin and cola
Fruity Cocktails to Order at a Bar
These fruity drinks are precisely what you need in your glass, with flavors that contain fruits like coconuts, pineapples, berries and citruses.
Pina Colada
This tropical haven in glass comes complete with a list of fruity cocktail ideas that will have you falling in love with sweet concoctions. A pina colada is a drink composed of rum, cream of coconut or coconut milk and pineapple juice that is often served blended or shaken with ice. It can be topped with a pineapple wedge, a maraschino cherry or both.
Hurricane
The hurricane is a sweet alcoholic beverage composed of rum, lemon juice, passion fruit syrup or fassionola. It is one of the numerous popular cocktails available in New Orleans. It is often served in a tall, curved hurricane glass.
Strawberry Margarita
The strawberry margarita is a well-balanced beverage made with fresh or frozen strawberries, tequila, and lime juice. The margarita is one of the most popular tequila-based cocktails and is available in a variety of different flavors either frozen or with a salted rim.
Mimosa
A mimosa is made with chilled champagne and citrus juice, generally orange juice, unless otherwise indicated. It is traditionally given in a tall champagne flute during breakfast, weddings and on some passenger railroads & airlines as part of a business or first-class service. Its ingredients are champagne and orange juice.
Tequila Sunrise
The tequila sunrise drink consists of tequila, orange juice and grenadine syrup. It's served in a large glass, unmixed. Designed to remind you of brilliant dawn, this drink is stunning and impossible to put down. The contemporary drink originated in Sausalito CA in the early 1970s, following an older one produced in Phoenix AZ in the 1930s.
Strawberry Daiquiri
Daiquiri is a beverage made with rum, citrus juice, sugar or another sweetener. Hot summer days need the use of iced drinks. This strawberry twist on a traditional daiquiri is a match made in heaven. Fresh, frozen strawberries make the most wonderful frozen strawberry daiquiri. Without the use of ice, the drink stays quite refreshing and flavorful.
Speakeasy Cocktails
Speakeasies are sometimes referred to as blind pigs or blind tigers or as bars that imitate dive bars of the past. Speakeasy bars rose to popularity in the United States during the prohibition era (1920–1933, in certain states for a longer period).
Not all of these prohibition-era cocktails were invented between 1920 and 1933, quite possibly from the late 1800s. On the other hand, drinkers of the jazz age would have discovered them due to the cocktails' ability to hide the illegal alcohol of the day.
During Prohibition, there weren't many options for brandy, gin, rum, or whiskey. Quality was not always guaranteed, whether it was smuggled liquor from rum runners, doctored up "whiskey" or moonshine or bathtub gin.
At Arthur's Tavern, you can sample some of intriguing homemade cocktails inspired by the Prohibition Era but are fit for the 21st century. Among them are:
Bobbi's Grand!: Bombay Sapphire Gin, Campari, Martini Fiero, Orange Bitters, Prosecco, Orange Peel
NoseDive: Angel's Envy Bourbon, Campari, Martini Fiero, Amaro Nonino, Lemon Juice
Cosmosis: Grey Goose Vodka, Cointreau, Grapefruit Juice, Lime Juice, Peychaud's Bitters, Grapefruit Peel, Lime Wedge
Nephew Tommy: Bacardi Cuatro, Wray & Nephew, Fresh Lime Juice, Sugar, Lime Wheel
Slim Spritz: Patron Tequila, Fresh Lime Juice, Topo Chico Seltzer, Lime Oval
Arthur's Tavern offers a traditional and refined drink with a few intriguing variations to keep you guessing. With excellent speakeasy cocktails, you will be able to unwind with a couple of lovely traditional drinks.