Roy Hargrove was one of the top trumpeters of his time and a pioneer of jazz hip-hop fusion. Hargrove was born in Waco TX in 1969 and relocated to Dallas with his family at the age of nine.
Hargrove was already a fiery trumpeter in his teens, deftly emulating the likes of Clifford Brown, Fats Navarro, Freddie Hubbard and Miles Davis. Wynton Marsalis, who was visiting his school for a music clinic, noticed him when he was 17 years old. Marsalis began mentoring Hargrove by allowing him to sit in with 
his band and introducing him to the jazz community.
Bobby Watson, Ricky Ford, Carl Allen and the group Superblue were among the stars who joined the young trumpeter on stage. Hargrove also attended Boston's Berklee College of Music for a year before dropping out and relocating to New York City.
Hargrove made his solo debut for Novus in 1990 (when he was 20) with Diamond in the Rough. The CD featured pianists Geoffrey Keezer & John Hicks, saxophonists Antonio Hart & Ralph Moore and drummers Ralph Peterson, Jr. & Al Foster. A furious mix of originals and standards displayed the trumpeter's affinity with youthful and older performers.
He also accompanied saxophonist Sonny Rollins for a high-profile New York Carnegie Hall concert around the same period. A slew of equally compelling albums was released for the remainder of the year.
By 1994, Hargrove was consistently at the top of critics' and readers' polls in jazz magazines, his popularity boosted by his extensive touring and penchant for late-night jam sessions. A live jazz club, Arthur's Tavern preserves jazz history while promoting innovation and progression.ion.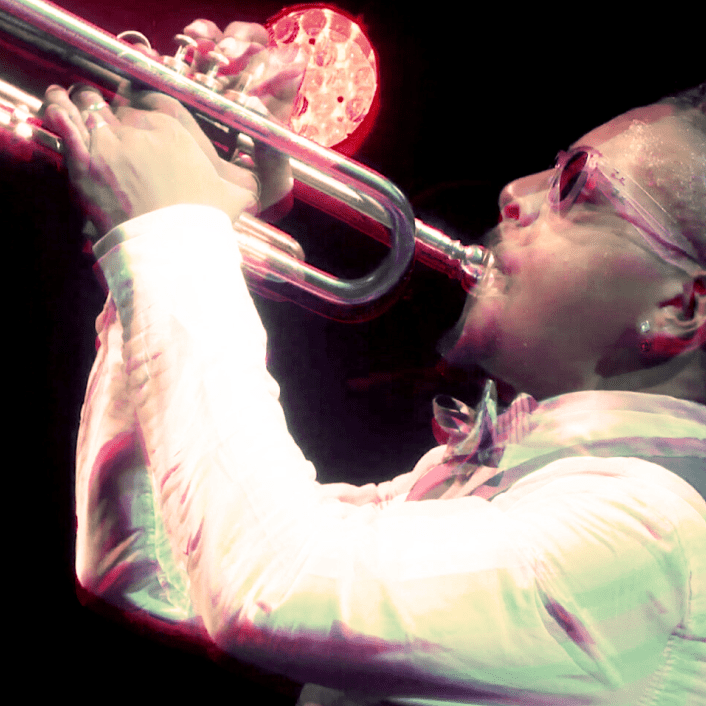 Roy Hargrove Strasbourg-St Denis
Hargrove composed and recorded numerous original songs throughout his 30-year career, one of which, "Strasbourg-St. Denis," has been dubbed a jazz standard.
The strong melody alternates between a dancing unison horn line and a displaced descending line, and the song's force comes in the super-tight groove established by the rhythm section and the strong melody. It is believed Roy attempted to convey a sense of the Paris metro station named after the song with these two contrasting lines.
Roy Hargrove, a seasoned jazz trumpeter, composer and bandleader who has been superb since the start of his career, has played with different all-star bands and neo-fusion groupings and made a life playing modern instrumental music. With Earfood, he achieved a new and higher level of pure jazz talent.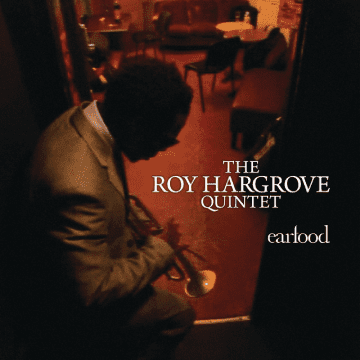 Hargrove provides various ballads, favorites from jazz veterans, and brilliantly delivered originals on this studio album of his live touring repertoire with his working quintet, all in the spirit of the famous trumpeters who came before him. Alto saxophonist Justin Robinson and pianist Gerald Clayton are not only emerging talents and notable soloists but also performers who play well together in this contemporary and popular modern jazz.
Add in Danton Bolder, a youthful bassist, and Montez Coleman, an outstanding drummer, and you have a lineup capable of bringing Hargrove's work to life. Everyone is said to learn from their failures, but if that is true, Hargrove has gone far beyond the pale and is faultless in both concept and execution.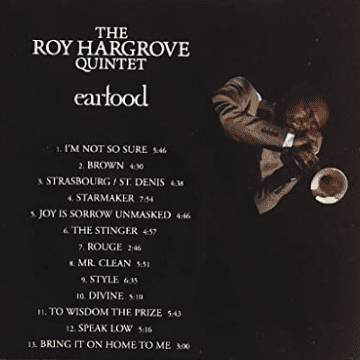 Roy Hargrove's Earfood opens with four home runs:

An ultra-hip contemporary version of Cedar Walton's "I Am Not So Sure"
A sweet 7/8 beat for "Brown" with outstanding piano from Clayton
The aforementioned "Strasbourg/St. Denis" with an infectiously happy aura, clever staccato unison & chatty counterpoint from the horns
The sleek, breezy & soulful "Starmaker" that sounds like it could have come from the late pianist James Williams' book
Among the other highlights of the album is a nice, well-done recreation of Weldon Irvine's original blues-funk-soul classic "Mr. Clean," an impressive rendition of Larry Willis's "To Wisdom the Prize" and the great swinger "The Stinger" that sparkles with harmonic hues.
The four salt-and-pepper ballads all showcase Hargrove's mastery of playing softly and soulfully, which is, unfortunately, becoming a rare art, with "Joy Is Sorrow Unmasked" and "Rouge" particularly moving. The CD ends with an in-concert gospel-soul rendition of Sam Cooke's "Bring It on Home to Me," which is as excellent a way to end this collection as any.
In this performance, there are no blunders, no filler tracks, just the trumpeter playing exactly as he always has — if not better than he ever has — and a brand that knows how to bring his music to life. This comes with the highest of endorsements, a peak watermark for Hargrove and must be considered a contender for the Best Jazz CD of 2008.
Since the beginning of the 1990s, Hargrove has delivered excellent albums, but "Earfood," the album on which today's song was first released, was his crowning achievement. Hargrove's working band, Justin Robinson on alto/tenor sax and flute, Gerald Clayton on piano, Danton Boller on bass and Montez Coleman on drums, contributed to the album, which was released in 2008.
Roy Hargrove & Mulgrew Miller In Harmony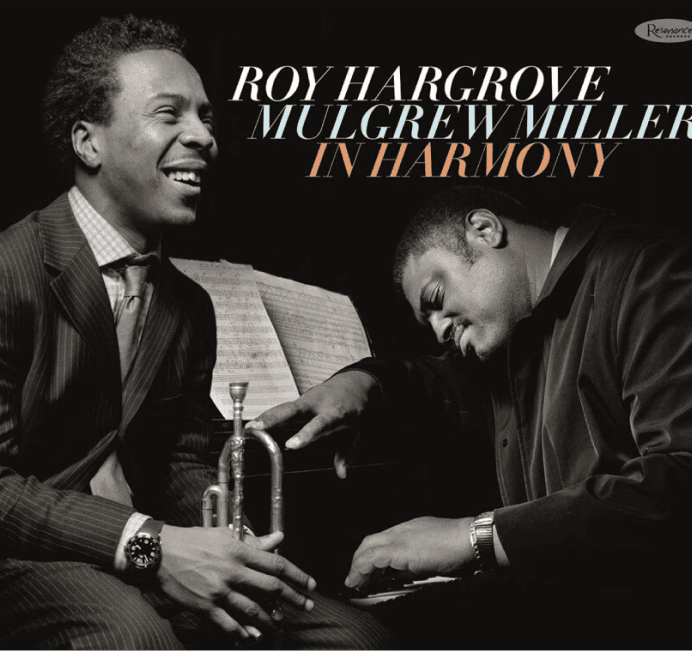 In Harmony, released in 2021, is a moving duet CD that features two archived live performances by trumpeter Roy Hargrove and pianist Mulgrew Miller.
During two jazz standards concerts captured at Merkin Hall in NYC in January 2006 and Lafayette College in Easton PA in November 2007, these two musicians interacted euphorically. Sadly, both performers died far too young, Miller in 2013 at the age of 57 and Hargrove in 2018 at the age of 49. While they had met before in their careers, In Harmony is one of the rare papers highlighting their powerful chemistry.
Miller and Hargrove shared a Southern upbringing, rooted in the black church and soul music as well as the swinging hard bop and modern jazz for which they were known. They were also embraced by seasoned and younger performers, garnering appreciation for their diverse talents and in-depth knowledge of the jazz lexicon.
While they brought all their combined experience to bear on their two live shows, the atmosphere remained as intimate and laid-back as if they were just showing up to a tiny club jam session.
They keep the audience's attention throughout, performing a brisk rendition of "What Is This Thing Called Love," a spiraling reading of Dizzy Gillespie's Latin number "Con Alma," and a buoyant, rhythmically infectious rendition of Blue Mitchell's "Fungii Mama" that sparkles with a joyful calypso island spirit.
The duo performed an appealing rendition of "Never Let Me Go," showcasing their skilled lyricism and dark, often impressionistic harmonic choices at the outset of the second concert. There's also the spontaneous original "Blues for Mr. Hill," a slow, declamatory blues highlighting these two kindred personalities' lively, soulful heritage.
Hargrove, who was always looking for new ways to express himself, began to branch out into other genres in the 2000s, contributing his talents to projects by artists outside of the jazz world. He collaborated with rapper Common and provided horn arrangements for neo-soul & hip-hop singers including D'Angelo and Erykah Badu, with whom he attended high school in Dallas. John Mayer, guitarist Danny Gatton and Gladys Knight participated in the sessions. He also established the RH Factor, a funk and hip-hop-influenced ensemble that debuted in 2003 with Hard Groove, which featured guest appearances from D'Angelo, Common, Meshell Ndegeocello, Q-Tip and others.
A string of equally engaging albums followed for Novus, including 1990's Public Eye, 1992's The Vibe and 1993's Of Kindred Souls, all of which charted in the Top Ten of the jazz charts.

In between more straight-ahead jazz sessions, he'd return to the group. Strength was released in 2004 and Distractions followed in 2006. Both were vibrant productions that found him collaborating with soul, hip-hop, and gospel artists, including saxophonists David "Fathead" Newman & Karl Denson, keyboardists Bobby Sparks & Bernard Wright, bassist Pino Palladino, vocalist Renee Neufville and others.
In the following years, he released Emergence, which featured him singing alongside a 19-piece big band (something he had done more frequently in the 2000s). Jon Batiste, a young pianist, toured with the ensemble during this time before starting his illustrious career.
Hargrove's productivity decreased in the 2010s, owing to his chronic dialysis and kidney problems. Still, he remained active, touring frequently and performing on records with Christian McBride, Roy Haynes, Theo Croker and 1975.
Hargrove passed away in November 2018 at the age of 49 following a cardiac arrest caused by his kidney illness. In Harmony returned him to the top five of the jazz charts posthumously in 2021.
Roy Hargrove emerged as one of his generation's most important & instantly recognizable jazz performers because of his powerful tone, swaggering solos and deep understanding of the jazz tradition. Clifford Brown, Freddie Hubbard and his instructor Wynton Marsalis all influenced his development.
Hargrove's music will continue to be influenced by soul and hip-hop, but he remains committed to the jazz legacy. He frequently toured, leading his acoustic quintet, which he featured on his 2006 album Nothing Serious, merging his songs with those of his bandmates and well-picked standards.