Enjoy the best tequila cocktails at a speakeasy bar in New York , where ambiance and great cocktails make for a fun night. Tequila is used in a number of popular cocktails such as The Classic Margarita, Tequila Sunrise, Tequila Sour and Paloma.
Tequila has an interesting story. It is made from the harvested core of the agave plant, which is also known as the "pina." The production is done by streaming the agave plant into multiple industrial ovens before it gets distilled two to three times into copper pots. Tequila first came into existence in 250-300 A.D. by Aztec Indians. The Aztec Indians produced the fermented juice from the agave plant for their ceremonial wine, also known as the 'plaque.' The liquid was important to the Aztec culture, for they only worshiped two gods- Mayahuel (the goddess of the Maguey) and her husband Patecatl, the god of pulque.
Tequila Bar NYC
Arthur's Tavern is a premier tequila bar in New York City. We opened our doors in 1937, and have kept our reputation as a premier jazz club and one of the oldest West Village bars. Take a look at some of our most popular tequila cocktails.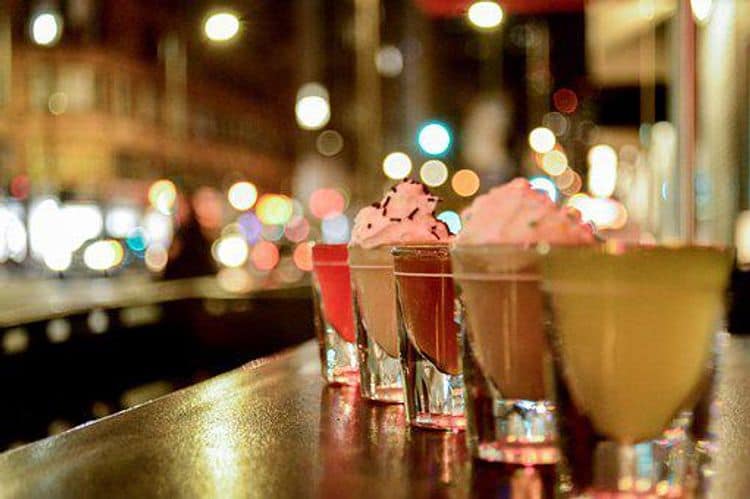 Classic Tequila Cocktails
Now let's talk about many of the different kinds of tequila cocktails. The first is the classic tequila cocktail which is a dry drink. To make this drink, you need either (Blanco or silver) tequila which will be the base of your drink. You will combine that with your dry vermouth and angostura bitters, also known as (cocktail flavorings), finally you will want to garnish it with an olive or a twisted lemon peel. Such a great drink if you ask me!
Margarita
The next drink we are going to discuss is the margarita. There are all types of different ways you can make a margarita, but we are going to discuss how to make an original. First, you will need to make sure you are using your typical margarita glass for this drink. You will need Cointreau, lemon juice, and of course, tequila.
To prepare this delicious drink, you will want to dip the rim of your cup in lemon juice so the salt can stick to the rim. Then you shake all the ingredients and carefully pour your shaken ingredients into your cup (make sure you do not dissolve any of the salt). After that is all said and done, you want to garnish it with a lemon slice to add a little bit more flavor to your drink.
Tequila Sour
Another unique drink is the Tequila Sour. This is just one of the sour drinks you can try; sours are made of three parts liquor, citrus, and sweeteners. The ingredients for a Tequila Sour are, of course, Tequila, but also you will need lime juice, lemon juice, agave syrup or simple syrup, some angostura bitters, and egg whites.
To make this drink, you will want to put all your ingredients into a cocktail shaker and shake them for at least 15 seconds, starting without ice. After that is all shaken up without ice, you want to add ice to your cocktail shaker and shake for another 30 seconds with your ingredients still in it. Then you want to grab your cocktail glass and pour your mixture into your glass, then garnish it with a cocktail cherry (you do not have to if you do not want to. This is optional). Now enjoy your Tequila Sour!
Paloma
The Paloma is a tequila-based cocktail. It is most commonly prepared by mixing tequila, lime juice, and a grapefruit-flavored soda (such as Fresca, Squirt, or Jarritos). You want to make sure you serve this drink on ice and top it off with a lime wedge. You can, of course, add salt to the rim of your glass if you like to (that is optional). You do not want to use any drinking class for your Paloma. It is more preferred to use a highball glass which is more traditional for this yummy drink.
Tequila Sunrise
Finally, the Tequila Sunrise is one of the best cocktails at Arthur's Bar. This drink consists of tequila, orange juice, and grenadine syrup. This modern drink first originated in Sausalito, California, in the 1970s, after one was earlier created in the 1930s in Pheonix, Arizona.
To make this drink, you will want to pour the tequila and orange juice over ice in your Collins glass. After you have poured your tequila and orange juice into your glass of ice, you want to add your grenadine syrup which will sink to the bottom but make sure you do not stir your drink. When everything is all done and added to your drink, you can garnish it with a cherry and orange slice. Drink up hope you love this Tequila Sunrise as much as I do!
Acapulco Cocktail
Made with top shelf tequila, gold rum, and equal parts pineapple and grapefruit juice, this is a sweet drink you can enjoy all day long. It is usually served in a Collins glass and garnished with a pineapple wedge.
Visit Arthur's Tavern for some of the best tequila cocktails in NYC.